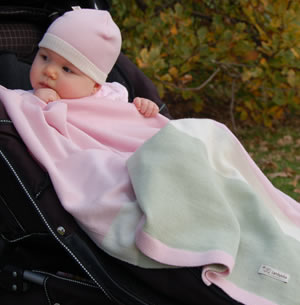 When we researched options for our Lambykins collection, we wanted to create a blanket made from the best all round fibre available. After looking at the overwhelming benefits merino wool had to offer it became the obvious choice for our Lambykins collection.
Merino wool is very fine and extremely soft to handle. This is important to us as we understand that our Lambykins collection will be snuggling up to your beautiful baby's sensitive skin.
Merino wool is a natural fibre that has many unique properties that could not be surpassed!

Merino Facts!
Merino wool has the ability to insulate against heat and cold and protects against sudden changes in temperature letting your baby's body breathe naturally. In today's environment where we can take our baby from the warmth of our home or car to the cold outside in an instant, it is reassuring to know that your baby is wrapped in Merino, eliminating sudden changes in your babies temperature.

In cold weather even a little moisture on the skin becomes cold, quickly reducing your baby's temperature. However by absorbing moisture a dry layer of air is left next to the skin and helps to hold body heat.


In hot weather Merino wool applies an absorption / evaporation process to help keep the body cooler. When the body perspires Merino's thirsty cells absorb body vapours to help reduce the temperature.

Merino wool can absorb up to 30% of its own weight in moisture before it becomes notably damp. It is comforting to know that any moisture on your baby's skin will be quickly absorbed leaving your baby more comfortable in any climate.

Merino wool is naturally UV resistant. Your baby is protected from the suns harsh rays when they are covered in Merino wool. We are extremely fortunate that merino wool's own ability to protect the merino sheep from Australia's harshest sun can be carried through to the consumer.

Merino wool resists static because wool absorbs moisture, therefore it's tendency to collect static is greatly reduced.


Merino is naturally safe. It does not have to be chemically treated to become non-flammable. While it can catch alight when exposed to direct flame, it will not easily flare up and can quickly be extinguished. Merino will not melt, like most synthetic fibres, onto the skin which causes the most severe burns. Once the flame is removed merino will leave a cold ash which can be brushed away immediately.Firemen and racing car driver who can be exposed to extreme heat or fire will wear wool.


Merino wool is naturally elastic . It can be wrapped around a baby, or tucked in under a cot mattress or thrown over a pram and yet it will naturally return to its original shape.

Merino wool not only wears longer, it also keeps its appearance and stays new-looking for longer. Merino stands up to the stresses and strains of normal wear because it gives rather than resists friction. One of the reasons so many people hang on to a favourite old wool garment for so many years is because it retains it original appearance and comfort longer than most other garments.

Lambykins® use wool from Australian Saxon Merino, which are bred to produce a superfine fibre (very thin wool). Just like human hair the finer the hair the softer the touch. Merino wool is measured in fibre diameter, and because Merino is so thin it is measured by micron. A micron = 1000th of a mm. Lambykins® blankets and caps are 19 micron (the finer the better). So it is very, very fine and soft. It's actually finer and softer than human hair.

Whilst Merino is super fine and super soft it is also very light. Nothing is more uncomfortable than a heavy blanket when sleeping, particularly for tender little babies. Unlike other light fabrics, wool is much warmer because the wool fibres are so fine and condensed assisting in reducing heat loss.

When you touch a Lambykins® blanket you will instantly feel the softness, the comfort and warmth that a Lambykins blanket is renowned for.

We hope your baby loves growing up with their favourite Lambykins® blanket to keep them snug and warm.

(information source: The Woolmark Company, www.woolmark.com)

Washing Instructions
Machine wash on wool cycle using an approved wool detergent. Do not tumble dry. Pull gently into shape and dry flat in shade. Warm iron. Dry Cleanable.